The Midnight Edits of Paul Revere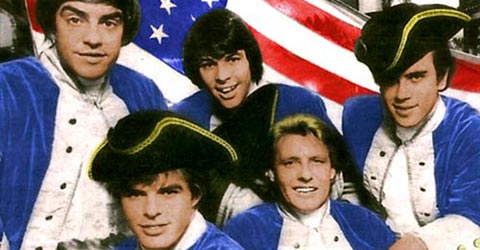 Accounts differ regarding the method of alerting the colonists; the generally accepted position is that the warnings were verbal in nature, although one disputed account suggested that Revere rang bells during his ride.
A sentence added to the Paul Revere Wikipedia page at 2:31 p.m. Sunday by user Tomwsulcer.
2:46 p.m. User Dajames, Paul Revere talk page: "In the article on Paul Revere, someone has added false information in an effort to support Sarah Palin's FALSE claims about Paul Revere… This must be removed as it is a LIE designed to mislead."
2:50 p.m. Tomwsulcer: "A lie? If you follow Wikipedia's rules, we must maintain a WP:NEUTRAL position, representing the mainstream position as well as disputed versions. I think the addition represents this fairly — the mainstream position is that Revere's warnings were verbal, but there are differing accounts that the warnings were done with bells — with two sources: WDHD television plus a live interview, with a highly influential US politician relating these facts."
2:50 p.m. Sentence deleted by CutOffTies.
2:52 p.m. CutOffTies: "I removed the content not backed by a reliable source."
3:04 p.m. Sentence restored by Tomwsulcer.
3:09 p.m. Tomwsulcer: "I kindly remind people that it's not our job here at Wikipedia to decide what's true, but to report what reliable sources say, such as the LA Times, WDHD TV in Boston, numerous others. And they quoted an American politician saying that bells were used."
3:19 p.m. Sentence deleted by Hertz1888.
3:30 p.m. Hertz1888: "It's not the LA Times that's questionable as a reliable source, it's Palin herself. Even if the Times (& others) quoted her accurately, her off-hand, poorly-informed view doesn't belong here, per WP:UNDUE, and I have reverted."
3:37 p.m. Tomwsulcer: "I remind people, kindly, that it's not up to us contributors to determine who is and isn't a 'poorly informed view' and to try to determine truth. Rather, Wikipedia is about verifiability."
3:44 p.m. Hertz1888: "It doesn't tell the reader looking for information on Paul Revere anything useful. Vice Presidential candidate, please."
12:56 a.m. Monday. Opcnup: "A humble suggestion for Sarah Palin fans: If you want to find a source to work into the article, you should search for sources that agree with what Palin said BEFORE she said it."