Some of My Best Friends are Backstabbers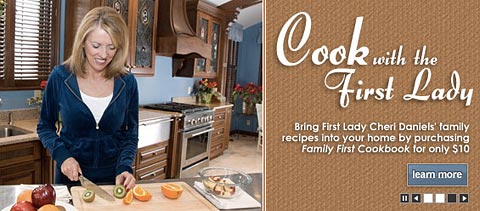 We're not sure Indiana Governor and Shrub alum Mitch Daniels wants to run for President, as opposed to DC Types wanting him to run. And from what little we've heard about the matter, apparently The Wife has reservations.
Now we know why:
The trickiest issue is the Daniels' past: As they say on Facebook and in the recent movie about it, "It's complicated." In the 1990s, Cheri Daniels left her husband and their four daughters, ages 8 to 14, moved to California, and married another man. Three years later, she returned to Mitch and their family.

Governor Daniels has discussed the matter publicly only once. "If you like happy endings, you'll love our story," he told the Indianapolis Star in 2004. "Love and the love of children overcame any problems."
Since we know little of Mitch Daniels, we're not sure this poses a Newt Paradox, at least until Mitch makes some Family Values noises. (Well, besides defunding Planned Parenthood this week.) But now that the cat's out of the bag, we're sure The Wife would love to get up close and personal with the DC Types who've been bandying about Hubby's name.
Image: First Lady Cheri Herman Daniels [State of Indiana]
Add a Comment
Please
log in
to post a comment