NB to Chris Lee: Next Time, Use a Professional Photographer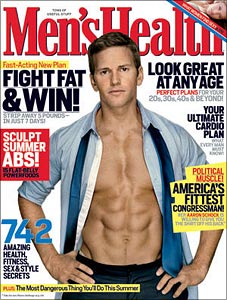 Our guest columnist is totally not gay.
It's early spring in Washington, D.C., and the cherry blossoms lining the Tidal Basin are bursting like kernels of popcorn, lending a fairy-tale feel to the nation's bastion of power. But to catch a glimpse of the real Washington in action, you'd better arrive early. If you hit the street before 8 a.m., you may see the fittest man in Congress, U.S. Representative Aaron Schock of Illinois, clocking in for his 5-mile run — the conclusion of a morning fitness routine that starts in the House gym at 6:30 every weekday morning.