Stork Shadows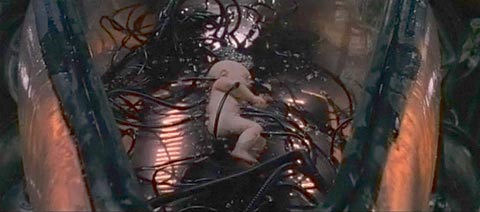 Texas state representative Leo Berman is, um, burning (sorry) with questions about The First Birth Certificate:
Why did it take the president so long, amid a conservative firestorm, to release it? Why does it look "brand new," he said, when it's supposed to be five decades old? Why doesn't the hospital listed on the birth certificate have a "plaque on the door" commemorating Obama's birth there? And has anyone checked with the delivery room doctor listed on the birth certificate (whose name Berman says is curiously difficult to make out)?
In order:
1. It took so long because it's fun to watch Birthers twist in the wind.
2. It looks brand new because it's a microfilm copy printed on fresh paper.
3. Ask the hospital.
4. The Baby Doc's dead, Jim.
Regarding that last answer, let's bring in Eric Bolling of Fox Business for special credit:
After noting that the doctor that signed the birth certificate had "passed away," Bolling pointed out that the doctor's wife and son both were unaware that he had delivered President Obama. Bolling asked: "If you gave birth to the president of the United States, don't you think your family would know about it?"
Well, um, yeah, Eric, they certainly would. If the Baby Doc hadn't died in 2003.
The good news is that they know now:
The wife of the doctor who delivered a newborn Barack Obama back in 1961 claims she had NO CLUE her late husband brought the future President into the world — IN HAWAII — until she saw B.O.'s birth certificate this morning.

TMZ spoke to Ivalee Sinclair — the wife of Dr. David A. Sinclair — who told us she was SHOCKED to see her husband's signature on Obama's birth certificate… and now, even though Dr. Sinclair passed away in 2003, the entire family is CELEBRATING.
"Life is full of surprises!" says Mrs. Baby Doc. And there's the real, joyous twist ending we've all been waiting for.
Eric Bolling And The Case Of The Time Traveling Doctor [Media Matters]
Add a Comment
Please
log in
to post a comment