Please, God, Don't Turn the Camera Around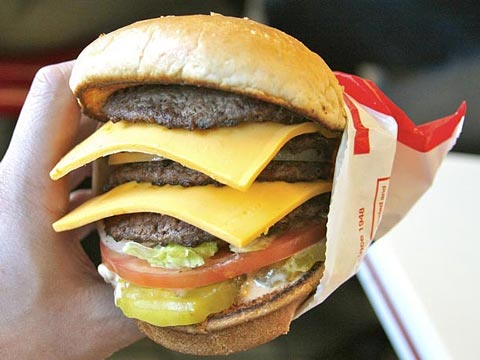 "Anybody who's been halfway around the block is aware of In-N-Out's secret menu," we are told, forcing us to admit that after a dozen years in California, we've only traveled a quarter or a third. In our defense, we have visited an In-N-Out once in somewhat recent memory, which is more than we can recall visiting any other fast-food joint. It's been a long time since we regularly skipped high-school lunch for McDonald's.
To join the Cult of The Secret Menu, apparently you just knowingly order a standard item not found on the printed version. Pictured here is what appears to be a "4×2" — four patties, two slices of (optionally unmelted) cheese — the sight of which is sufficient for us to maintain a healthy distance from In-N-Out for another dozen years.
Add a Comment
Please
log in
to post a comment