The Promises of the Past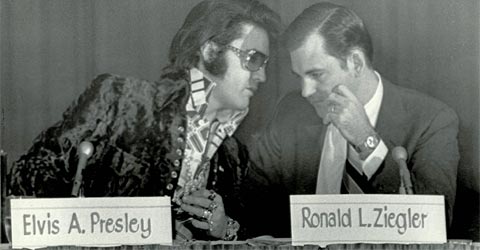 Ladies and gentlemen, the Golden Boy of American Conservatism today:
In Wisconsin and Ohio, they have decided there can no longer be two classes of citizens: one that receives rich health and pension benefits, and all the rest who are left to pay for them.

Democrat or Republican, it doesn't matter. We are all facing the same problems. These problems are bigger than either political party. The promises of the past are too expensive, and the prospects of the future are too important to stay on the old, failed course.
That would be Chris Christie, giving his budget address in New Jersey on Tuesday.
The first thing you'll notice is that a Republican is waging class war, something which apparently is permitted so long as the class doesn't include the wealthiest two percent of Americans. (If you want to be precise, it's really divide-and-conquer, couched in resentful rhetoric.)
But here's the line that's really gnawing at us:
The promises of the past are too expensive.
In one respect, there's nothing notable about this — "Hey, we've run into some problems, can we renegotiate our agreement?" — and if we put our mind to it, we could probably come up with some sufficiently elegant way to express it.
But whatever we came up with, it wouldn't start like this…
The promises of the past…
…because that suggests something deeply uncomfortable: that promises have a shelf life.
Promises, that is, made by the speaker.
This is America, after all, where A Man is Only as Good as His Word. All promises are "promises of the past", offered to be redeemed in the future. If you can't trust that the promise will be redeemed, then it isn't a promise.
It is, instead, a lie.
We're old enough to remember old-school conservatism, the conservatism of Character, of Responsibility, of musty personal ethics that got in the way of having deviant fun. Clearly this isn't a burden on Modern Conservatism, whose leading exponent sees no issue with breaking promises because they've suddenly become inconvenient. A leader of what once was the party of Moral Rectitude is now freely admitting — heck, even celebrating — that Promises are Made to be Broken.
So Chris Christie isn't A Man of His Word. You got a problem with that?