Mubarak Stays in Place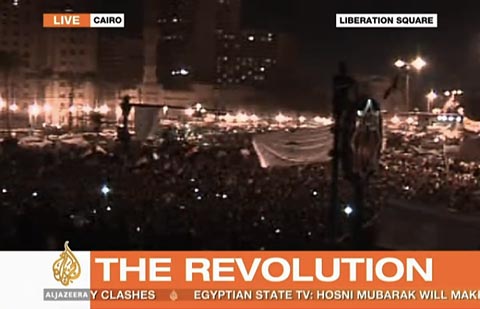 After a day of Will He or Won't He, Hosni Mubarak has announced on Egyptian television that he won't — he's remaining in power.
Earlier…
Barack Obama, speaking from Michigan, 1:40pm ET:
"We are witnessing history unfold. It's a moment of transformation that's taking place because the people of Egypt are calling for change… It's young people who've been at the forefront."
Obama calls for "an orderly and genuine transition to democracy in Egypt."
NBC, earlier:
Egypt's President Hosni Mubarak is to step down Thursday night, two sources told NBC News, as widespread protests against his 30-year rule continue to grip the country.

Following an all-day meeting of the country's supreme military council, the army said all of the protesters' demands would be met and that a further statement was due to be made later Thursday that would clarify the situation.

NBC News reported that a high-ranking source inside the president's office said Mubarak would step down and the newly appointed vice president, Omar Suleiman, would take over. This was then confirmed by a second source.
Head of Egypt's ruling party said he would be "surprised" if Mubarak was still President on Friday. Mubarak and family said to be "packing their bags" to leave the country, but an AJE correspondent is now cautioning against optimistic presumptions — Hosni's still on the ground, and may not yet have formally relinquished power.
CNN: Protesters shouting "Civilian, Not Military!" leadership.
Add a Comment
Please
log in
to post a comment