Orange Bowl Open Thread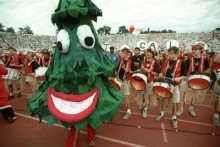 The college football game tonight pits Virginia Tech against Stanford at the Orange Bowl in Miami. Bettors are giving The Tree a 3-1/2 point edge over Los Hokies.
Not taking the field tonight is The Leland Stanford Junior University Marching Band (LSJUMB), described by the Miami Herald as the "most outrageous marching band in the land," as Orange Bowl organizers decided they didn't want to risk the band doing something scandalous at the halftime show.  Instead, the band will be limited to a six minute pre-game show, which LSJUMB has announced is entitled "Recent Events in the Pro Sports World in Miami."
Kick off is at 8:30 pm Eastern, but it's unclear whether the networks will show the performance beforehand.  LeBron James may be breathing a sigh of relief.
Add a Comment
Please
log in
to post a comment