Stinque Recipe Challenge (UPDATED)
Today it's Gordon Ramsay's Glazed Ham with pear and tomato chutney.  He's something of an asshole, but his recipes work. I don't have a written recipe, so the amounts are estimated. You can watch him do the ham about 1:50 in:
https://www.youtube.com/watch?v=CF5c5U4HhKE
So here are the ingredients: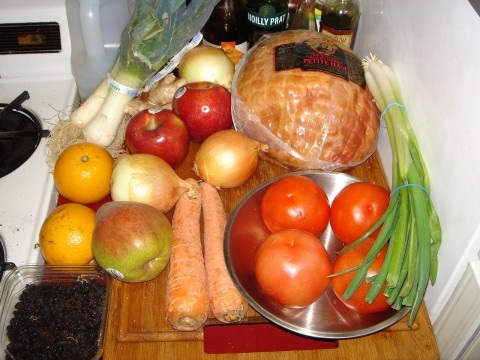 And here is the ham in with water, 2 medium onions, 3 leeks, 2 carrots, 4 bay leaves, 3 cinnamon sticks, and crushed pepper and coriander. Mine is bigger than Gordon's (!) so I'll simmer it about 3 hours.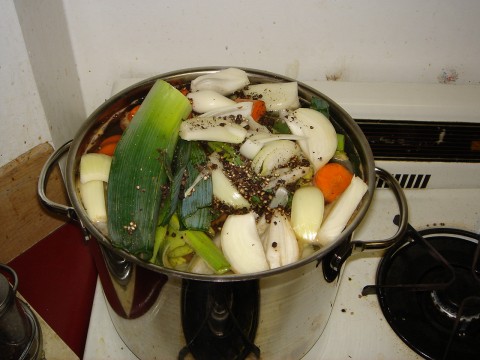 So here are the onions (I threw in some scallion tops I had left over) in olive oil, then I added about 1 tsp fresh grated ginger, cooked it, 1/2 tsp fresh grated nutmeg, cooked it, then tsp cinnamon and 1/2 tsp cayenne (Gordon says 1 tsp, but I figure you can add more later) and cooked it like a curry over low heat – it was rather pastelike.  At this point I added about 1/4 cup madeira, forgetting entirely that the madeira was for the ham glaze.  But how could it hurt?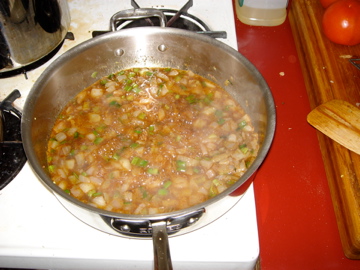 Then in went about a half cup of brown sugar, about 2 tbsp of rice vinegar (didn't have the white wine vingar called for) then 2 diced pears and 1 diced cooking apple (forget what kind):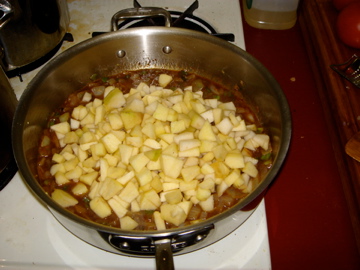 Here's the whole thing after about 5 minutes of cooking and the addition of currants (I don't know what sultanas are, and I figured currants were plenty Christmasy):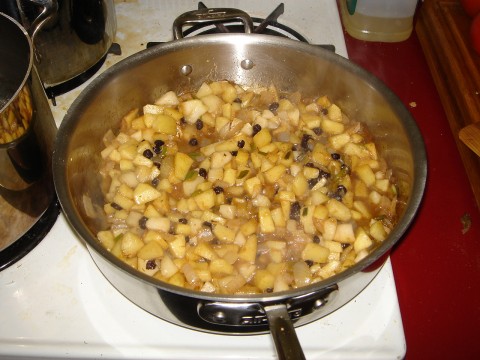 I mistakenly added one of the tomatoes (I used 3) before I cooked it down for 15 minutes, and unlike Chef Ramsay, I made a concassé – skinned (by dropping briefly in boiling water) seeded, and chopped tomatoes. Here's the whole thing all together: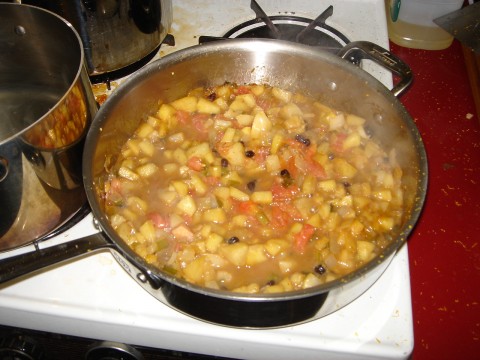 And here is the whole mess on the stove: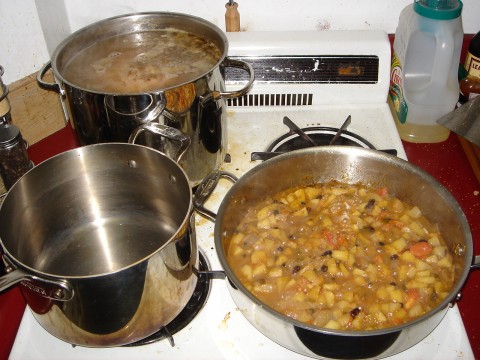 So here's the chutney with all the tomatoes in, nearly done – Ramsay took it off heat, as far as I can tell, right after he added the tomatoes – I made another 'mistake' and cooked it down for 10 minutes.  But it tastes amazing – a bit of heat after a sweet, light, slightly sour flavor.  Can't wait for the ham … speaking of which: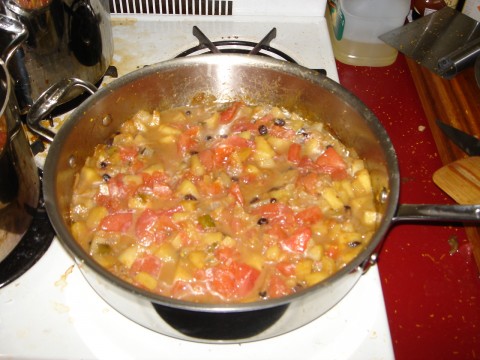 So I managed to knock the fat off one side of this once-noble piece of pork – I won't bore with the details of my klutziness. So I stuck cloves in the good side, and it's ready to go in the oven.  Glazing next – stay tuned.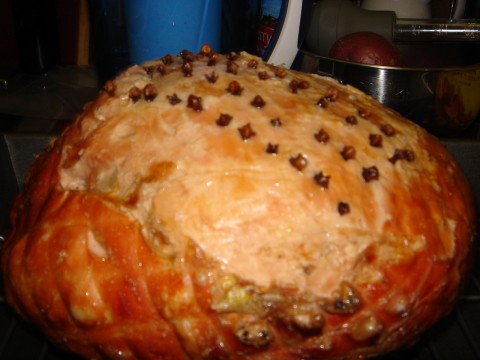 And this is the brown sugar melting in the madeira (for the glaze):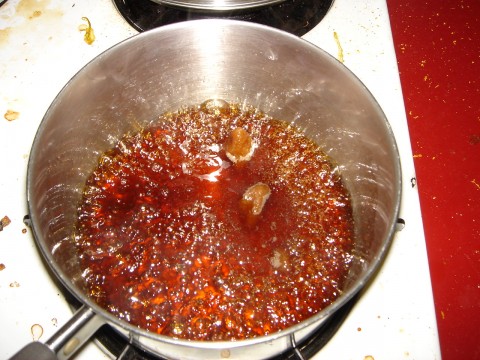 And here's the glaze with the honey in: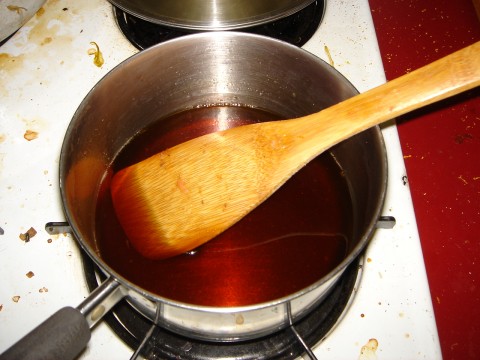 And, after basting every 5 minutes for 30 minutes at 350, then roasting at 375 for 30 minutes, it was done.  And it was delicious.