Jesus Saves — at Payne County Bank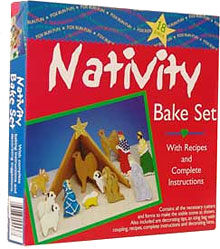 We can't even start writing this without telegraphing the punchline, so please, withhold your outbursts for the benefit of the children and slower members of the audience.
First the setup, as broadcast last week across the wingnutsphere:
Federal Reserve examiners came to the Perkins [Oklahoma] bank last week to make sure banks are complying with a long list of regulations. The team from Kansas City deemed a Bible verse of the day, crosses on the teller's counter and buttons that say "Merry Christmas, God With Us," were inappropriate. The Bible verse of the day on the Internet also had to be taken down.
Seems the bank had violated a federal regulation that forbids "the use of words, symbols, models and other forms of communication [that] express, imply or suggest a discriminatory preference or policy of exclusion." At least, that's how the Feds saw it.
But all's well that ends well: After the bank alerted James Inhofe and others to its plight, the Feds backed down, and the crucifixes went back up.
We actually don't have a problem with Mammon Community Bank getting all pious on our heathen arse. We would just hope that, in the interest of comprehensive exegesis, their daily verse includes the line about overthrowing the tables of the money changers.
Add a Comment
Please
log in
to post a comment