As If the DMV Weren't Hellish Enough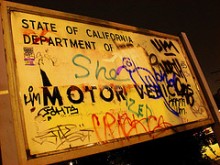 A San Francisco transgendered woman has filed a damages claim against the California DMV after a clerk at my local office told her when she was trying to change her name and gender on her driver's license in October that she was going to go to hell for her acts of homosexuality.
Oh, and then he sent a threatening letter to her home four days later begging her not to change her gender, and gave her address to a wackadoodle church that sent her DVDs warning of eternal damnation for homosexuality.
The punchline? He's been suspended with pay since October.
The second punchline? This is the second time he's done this in two years.
Add a Comment
Please
log in
to post a comment