RIP Elaine Kaufman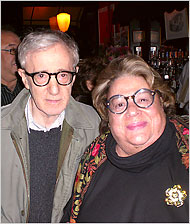 Confession – I used to hang out at Elaine's once in a while in the early 2000s, and I met one of my myriad girlfriends there. Talked with Elaine a couple times – always a gracious host. And they could cook risotto right – the true test of a restaurant.
(AP) – Elaine Kaufman, the colorful restaurateur whose East Side establishment, Elaine's, became a haven for show business and literary notables, died Friday at the age of 81.

Ms. Kaufman died at a Manhattan hospital of complications from chronic obstructive pulmonary disorder and pulmonary hypertension, according to a statement issued by the restaurant's representative.
Her restaurant, featured in Woody Allen's Manhattan, is the oldest of the old school on the island.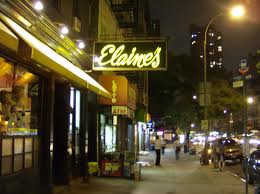 Lutèce is gone (not that I could have afforded it) and The Oak Bar isn't what is was since The Plaza was taken over by Arabs and the Swiss. The Manhattan of the 60s and 70s continues to disappear.
Add a Comment
Please
log in
to post a comment