Great Minds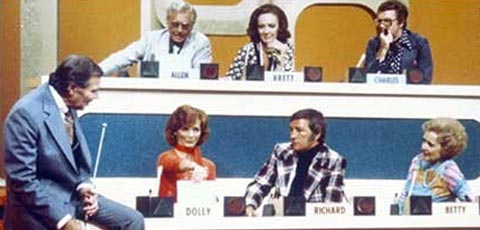 Longtime inmates will recall that "Morning Sedition" began as an inside joke. We were doing some volunteer geeking at the old website (long story), but nobody had posted at the old website for a few days. Following an outcry among the masses, we asked permission of the Former Overlords and posted a brief item to keep things fresh.
That was Tuesday. But the Overlords remained AWOL, so we posted another item or two Wednesday. Yet the Gaping Void remained unfilled, so Thursday morning we posted a link dump of headlines, called it "Morning Sedition", and the rest is history. (The Overlords finally returned from their alternate universe Friday night, and decreed that our Accidental Blogging would become permanent. Much to their later chagrin.)
We were so fucking mildly clever — Morning Sedition. HAHAHAHAHAHA!!! It was funny because it was a play on a well-known radio news program, and we had taken over the website! Now our sharp wit would take over the world!
Until we learned a few weeks later that "Morning Sedition" had also been the name of a popular Air America program.
Oops.
Of course, we had never heard of the program, since, like most Americans, we never listened to Air America. For that matter, the program itself had long since been canceled, if still fondly remembered in certain circles. So, we decided, fuck it: We liked the name, it was original to us, if not to the world, and if somebody called us on it, we'd just claim honest ignorance and fuck you.
And then it happened again.
A few weeks later, we needed a headline for a post on the Democratic primary race, and came up with the fiendishly clever "Fear of a Barack Planet". It was funny because Obama is black, and it references a rap album! It was so fiendishly clever, in fact, that somebody else had used it in February.
That's when we stopped Googling our headline ideas. Too depressing. Prior Art is a fucking bitch. Especially on the Internet. You just can't compete with millions of other mildly clever wordsmiths chasing the same target. Somebody will always beat you to it. It's like sperm chasing an egg.
And so, we made our peace. We wouldn't deliberately cop somebody else's line. But we wouldn't bother double-checking our fleeting brilliance, either. If The Simpsons Did It, fine. Fuck them, too.
Ben Greenman, an editor at the New Yorker, hasn't yet learned this Valuable Life Lesson:
There's a guy in my neighborhood who dresses exactly like Bruce Springsteen, circa 1975. He has the jeans. He has the cap. He has the beard. After seeing him a handful of times on the street, I nicknamed him "Born to Rerun." It made me laugh, for a second. It was a pointless little joke, no more than that. Out of curiosity, I searched for the phrase, which I thought I had invented — or rather, which I had invented, at least for my purposes. I discovered, predictably, that the phrase has been used before, frequently: in 2003 by Entertainment Weekly, last year by a fan posting a review of "Darkness on the Edge of Town," and on and on. I'd like to report that I don't care about those earlier occurrences, that I brushed them off and moved on, but the fact is that I do care. It's deflating to learn that your original idea, no matter how trivial, has already made an appearance. Before the Internet, I might have kept that pointless little joke alive in my head. It might have ripened into something or it might have died on the vine. But it would have been my tomato. Now, the process works differently. The incontrovertible proof that the phrase was already circulating made it difficult, if not impossible, for me to claim it as my own. It acquired the feel of something shoddy and second-hand, and I jettisoned it.
Bad move, Ben — that way lies madness. Keep your pointless little joke — just don't expect to dine out on it. You and your God know the inspiration was original, even if it wasn't unique. It's just the inevitable result of billions of primate brains being wired the same way. We're not snowflakes after all. Get over it.
That insight — It's ours! Back off! — allows us to finally answer one of the Great Mysteries of Western Civilization: How, before the Internets, did jokes go viral? In particular: How, the night of the Challenger explosion, were all the good nasty jokes already in circulation?
Granted, we weren't exactly lacking for mass communication in 1986. There was the telephone, after all. And faxes. (And television and radio, of course, but we can't see jokes like "Did you know that Christa McAuliffe was blue-eyed? One blew left and one blew right" spreading that way.)
Our simple answer is now this: Simultaneous Spontaneous Combustion.
Casual cleverness didn't begin with the Internet. The world's sentient beings have always been chasing the same punchline. Only before digital communication, the was no central repository. So, that day, across our spacious skies and amber waves of grain, everybody was coming up with the same lines. And told their friends. And their friends told their friends. What takes mere minutes today on Twitter, required excruciating hours to distribute with tin cans and string.
But the result was the same: A single joke, independently inspiring hundreds of like minds in sufficient geographic distribution, can achieve the same cultural effect as a massive retweet.
Just not quite as fast.
Add a Comment
Please
log in
to post a comment