Sure We Were Whores, But We Had Class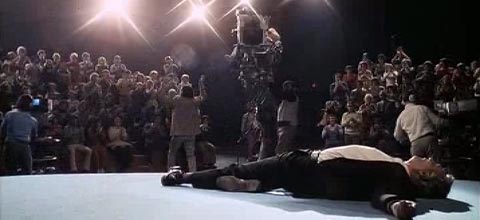 Ted Koppel almost got us killed.
The year was 1980. We were watching breaking news in our dorm room about Jimmy Carter's Iran-hostage rescue attempt, the one that failed with choppers going down in the desert. We swore, more than a little. Jimmy was going to start a fucking war, all because that asshole Koppel was needling him on TV every night.
In four days, we would turn 21. Vietnam was over. But not by much. We were raw meat for Our Nation's next militaristic fantasy.
"Nightline" didn't spring forth fully conceived from the forehead of Roone Arledge. It started as a nightly report, four days after the "hostage crisis" had begun the previous November. It wasn't even called "Nightline". It was called — wait for it — "America Held Hostage".
Even better: "America Held Hostage: Day 147".
Now that's packaging. We might have proposed instead "Americans Held Hostage By Iranian Militants Retaliating Against Decades of American Puppet Rule Following a CIA-Backed Overthrow", but TV Guide probably would have objected.
Did Koppel at least include the historical context while hammering away at it nightly? He might have; we honestly don't remember. Most nights, we were probably watching Carson.
But make no mistake: "America Held Hostage" was not a respectable journalistic undertaking. It was a cynical grab for eyeballs by a last-place news division that had recently put the producer of "Wide World of Sports" in charge to bring some zazz to its lumbering newscasts. You know the story. You've seen the movie. ABC provided the made-for-TV version.
All of which makes Saint Ted's recent Sermon on the Mount more than a bit rich:
The need for clear, objective reporting in a world of rising religious fundamentalism, economic interdependence and global ecological problems is probably greater than it has ever been.
Sounds like a good description of 1980 to us. Where were you, Ted?
Oh, that's right: Anchoring a program that did more to pervert the standards of American broadcast journalism and poison the national discourse than anything following in its wake — because everything followed in its wake. Don't wag a finger at flag-waving Fox, Ted. They learned it from you.
Add a Comment
Please
log in
to post a comment