Beloved National Comedian Returns to Television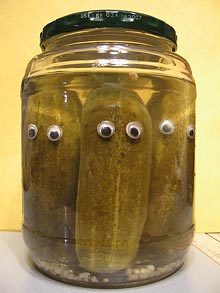 We were going to ignore this, but after a Stinquer tip and seeing it turn into a Twitter meme, we realized we have an editorial responsibility to clue you in:
George W. Bush's pro-life stance solidified when he was a teenager in Texas — after his mother suffered a devastating miscarriage and showed him the fetus in a jar, the former president said in an extraordinary interview that airs tonight.

"She said to her teenage kid, 'Here's the fetus,'" the shockingly candid Bush told NBC's Matt Lauer, gesturing as if he were holding the jar during the TV chat, a DVD of which The Post exclusively obtained.
Shrub's Miss Me Yet book tour begins tonight on NBC — now with 100% less Conan!
Add a Comment
Please
log in
to post a comment