This Assassination Brought to You By The Gap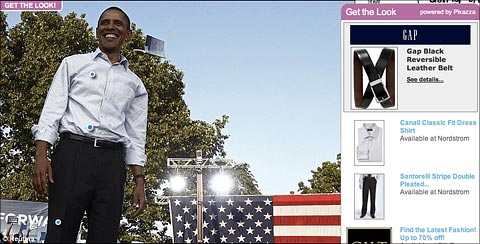 Some Bozo in Philly (callback!) threw a book at the President on Sunday, but never mind that. When we visited the Daily Mail website to filch the photo, strange blue targets appeared on Obama's person. And then we saw it: They're hotspots for a popup display advertising the clothes being worn. Stay classy, Fleet Street!
Update: Your questions answered! Or maybe not:
According to Secret Service spokesperson, Ed Donovan, the person involved was an overzealous author who just wanted to toss his book into the president's reading list…

"A book isn't considered a dangerous object so we're not going to start prohibiting books or any inanimate objects," he said. "The person threw a book on stage and our agents acted appropriately."
But what book? We know, don't reward the dude, but come on.
Add a Comment
Please
log in
to post a comment