$400k and struggling…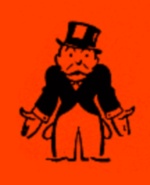 Fox News comes late to the party with a story about Todd Henderson, the U. Of Chicago corporate law professor who recently opened up to the world on the trials and travails of an average American family struglling to get by on a mere $400,000.00 per annum (we covered it some time ago). As you might expect, the Fox News profile is gentler on the good professor than most such stories, quoting experts who note that:
"Any time you want to take away a sizable chunk of people's money, it has a big impact."
and wrapping up with this bit of wisdom:
"But the bottom line… is that no one wants to pay more taxes." 
More interesting than Fox's predictable take, perhaps is the reaction from Fox News commenters, many of whom, for some odd reason, assume that this professor of corporate law must be a Democrat. So for your edification, words of wisdom from a few choice Fox News commenters:
rob_m@yahoo_:Just like a (D), no matter how much you have, 1) you need more and 2) Somebody Else needs to cough up.

wrestlingmandan: If $400,000 a year means you are rich, the American Dream does not exist anymore.

 jjb18018: If all those who complain about this guy being nuts for saying he is struggling at 400K were to look inward and think if they hit the lottery would they keep the same car the same house? One of the perks of wealth is the ability to afford things a tad easier. I don't blame anyone for wanting something more.. What I think we are forgetting is that what this guy is really saying is what is true for ALL of us..

imstrider: As long as our President continues to play the class warfare game in his comments, people are going to play along and whine about how tough they have it. I myself am making a cool $30,000 in a leadership position, and believe me, I don't have a whole lot of money for anything above and beyond bills and more bills. interestingly enough, I make 'too much money' for many people who just can't find work. Who knows REALLY.

russ_s@yahoo: Since when is rich defined as making over $250K? That's just Obama's class-baiting. Rich is owning a yacht with a helicopter on it. Hello?? Todd Henderson's not rich.

thanks4nothin: It is a sad day for America when a person is ridiculed and smeared for being successful. Under a communist regime, these sort of tactics are the norm. If the rich can be demonized, then everyone should be "equalized" on an even playing field.

rgarcia339: He probably would not be struggling if he could keep what he earned just like you (in response to a commenter who says he "dreams" of making even 100K per year).
Fox News. Yes, the readership is even dumber than you imagined.
Add a Comment
Please
log in
to post a comment