Speak Through Fox, Dance Through ABC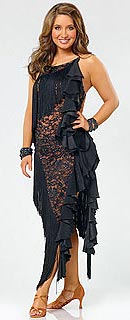 The 2012 Presidential Campaign kicks off in high style tonight at eight:
There will be high security tonight when Sarah Palin shows up to watch daughter Bristol perform on "Dancing with the Stars"…

Our spies say security guards at CBS Television City in L.A. — the place where "Dancing" is broadcast — is on "heightened alert."
Well, so are we! Almost enough to liveblog it, except we're on the Left Coast, so it would be more like a Tape-Delay Blog, which takes all the fun out of it. Especially the fun that would ensue if there's a security breach on live television, in which case protecting Mama Grizzly is a "higher priority than Bristol."
And speaking of The World's Luckiest Unwed Teen Mom:
Palin, 19, calls herself "naturally shy" and wants to make sure she sets a good example for her son, Tripp, 20 months.
Yes, we remember how proud we were at 5, to learn that Mom had whored herself out on national television before we could walk.
Bristol Is Miss Modest in Her Dancing Costume [People, Sept. 7]
Add a Comment
Please
log in
to post a comment