Another Oil Rig Explodes in Gulf of Mexico
The U.S. Coast Guard is reporting that an off-shore oil rig has exploded 80 miles south of Louisiana and west of the Deep Horizon site.  The blast occurred at 9:30 am Central Daylight Time, rescue crews are en route.
Updates to follow…
UPDATE: CNN says all 13 workers on platform accounted for, one is injured.
11:55 EDT UPDATE:  Oil rig is owned by Mariner Energy, whose stocks have dropped 4% in the past hour.
12:04 EDT: New Orleans Times-Picayune reports that all 13 workers are in the water in immersion suits that prevent hypothermia, awaiting rescue, and the platform is still on fire.
12:15 EDT: CNN now saying that all 13 workers are headed to the hospital. Coast Guard says that the rig was not "in production" at the time of explosion but unsure if there is a leak or "any additional concerns of pollution."
12:45 EDT: Conflicting reports depending upon the source as to whether the platform was in 350 feet of water or 2500 feet.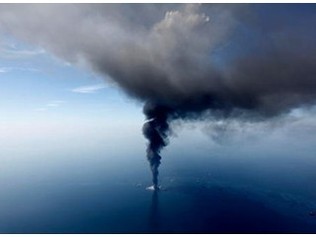 Department of Irony, Courtesy of DodgerBlue: Mariner Energy had its employees rally yesterday in Houston to protest the Obama Administration for "trying to break us" with deep-water drilling moratorium.
17:45 EDT: Fire now out, company says the seven wells associated with the rig are capped, but there was no blowout preventer on the oil rig.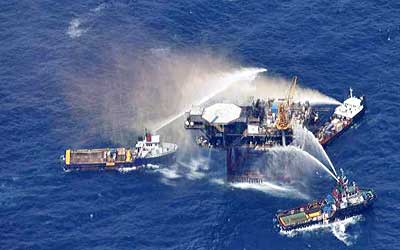 Add a Comment
Please
log in
to post a comment