111 Pictures; 62 Scenes of Violence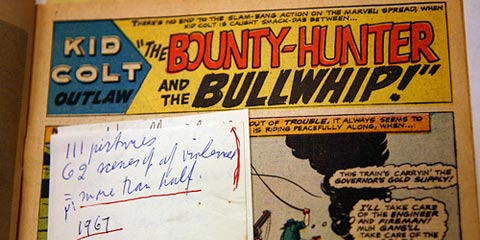 The archive of psychiatrist Fredric Wertham — who famously crusaded against comic books in the 1950s — is now open at the Library of Congress:
Despite his humane interests and broader concerns with violence and protecting children from psychological harm, Wertham is best known for his book "Seduction of the Innocent" (1954) and its resulting fallout. The book was the culmination of a decade-long campaign against comic books…

In "Seduction" Wertham wrote, "There seems to be a widely held belief that democracy demands leaving the regulation of children's reading to the individual. Leaving everything to the individual is actually… anarchy. And it is a pity that children should suffer from the anarchistic trends in our society."…

Wertham testified six times under oath on the harmfulness of comic books, including providing testimony before the Senate Subcommittee on Juvenile Delinquency. Though the committee's final report did not blame comics for crime, it recommended that the comics industry tone down its content voluntarily, thus resulting in the Comics Code Authority.
Also testifying at the subcommittee: William M. Gaines, publisher of Mad — and a number of deliciously gruesome horror comics that were shut down in the wake of the Comics Code Authority. Gaines himself had proposed forming CCA's industry trade group, but quickly lost control to the publisher of Archie comics. Mad had started as a comic book, but converted to the magazine format we grew up with to escape CCA censorship.
William Gaines [Wikipedia]
Add a Comment
Please
log in
to post a comment