Night of the Living Dog
https://www.youtube.com/watch?v=H_ZCqlR79qw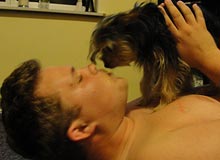 Day 3. We're starting to grow suspicious of Sheryll. As we were falling asleep, she was gently licking our mouth. But when we briefly opened our eyes, she had transformed into a hideous Salt Monster. We blinked — and she was a cute little dog again.
Our friends on the Night Crew at Target tell us we need to cut back on the Red Bull. But we can't. Justin Bieber needs us.
And then, back in the attic, we thought, What if Sheryll isn't what she appears to be? "Never you mind," we heard. We snapped our head — and there was Sheryll with a bloody sock in her mouth.
That settled it. We're switching to Snapple.
Add a Comment
Please
log in
to post a comment