The Irony Meter Just Pegged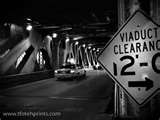 Just kill me now:
An outspoken opponent of the so-called ground zero mosque in Manhattan is also taking on Islam in Chicago. 

Pamela Geller, leader of a movement called Stop the Islamization of America, asserts that Muslims are increasingly taking over schools, financial institutions and the workplace.

Geller's latest campaign against "Islamization" has appeared in ads this summer on top of 25 Chicago cabs. Beside pictures of young women who were allegedly killed by their Muslim fathers for refusing an Islamic marriage, dating a non-Muslim or becoming "too Americanized" is the message: "Is your family threatening you?" and the Web address of LeaveIslamSafely.com. Though the placards appear to offer a haven for young women who want to leave Islam, critics contend the signs stoke fear among passengers and passers-by about the way an estimated half of the city's taxi drivers worship, and seek to suppress the religious liberty on which the nation was founded.
What is it about Chicagocentric stories about cabbies in August?  Last August, Blackhawk star Patrick Kane punched out a cabbie in Buffalo over… twenty cents.   (It turns out that Kane had a decent year after that — silver in Vancouver, Cup-clinching goal against Philadelphia in June.)  Now: this crap.
If this Geller [REDACTED] has a tenth of the success that Kaner got…. Jesus.  I need a drink.
Add a Comment
Please
log in
to post a comment