Thirty Years Ago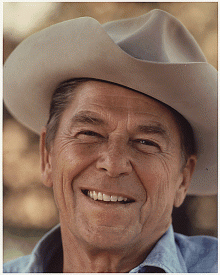 Wonder why Republicans/Teabaggers/Conservatives are shitting the bed?  Well, there's a black man in the White House, and the GOP's white base is not pleased – they long for, and are receiving, a revised Southern Strategy from the GOP. And don't forget – Nixon invented it, but their god perfected it:
On August 3, 1980, Ronald Reagan gave his first post-convention speech after being officially chosen as the Republicannominee for President of the United States at the Neshoba County Fair. The speech drew attention for his use of the phrase "states' rights" at a place just a few miles from a town associated with the 1964 murders of civil rights workers. Reagan said, "I believe in states' rights … I believe we have distorted the balance of our government today by giving powers that were never intended to be given in the Constitution to that federal establishment." He went on to promise to "restore to states and local governments the power that properly belongs to them".[2] The use of the phrase was seen by many as a tacit appeal to Southern white voters and a continuation of Richard Nixon's Southern Strategy, while some argued it merely reflected Reagan's libertarian economic beliefs.
I got your Gipper right here, and he's a racist. If you make your first campaign speech in Philadelphia, Mississippi, you admit as much.
Add a Comment
Please
log in
to post a comment