Well, That Only Took Us a Year to Come Up With An Orly Category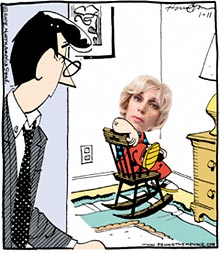 But it was well worth the wait:
According to Taitz, there's new evidence in the latest edition of "West Wing Week," a lighthearted weekly video produced by the White House. In the latest edition, posted on Aug. 12, an aide shows viewers the president's passport to answer a question about whether he gets stamps when he travels.

Taitz claims the footage proves the passport is doctored.

Further, she claims that the White House forged the passport and made the video in order to sabotage her case and "improperly influence this honorable court."
So, the Supreme Court appeal of her $20,000 fine for being a Blithering Idiot is back on, even after the Supreme Court swatted it down. Twice.
And, answering our question whether Orly's next stop would be the Justice League of America, she's ably trumped our meager imagination with a "Certificate of Service" sent overseas:
Office of the United Nations High Commissioner for Human Rights (OHCHR)
Special Rapporteur on the Situation of Human Rights Defenders
The Honorable Mrs. Margaret Sekaggya
Palais des Nations
CH-1211 Geneva 10, Switzerland
International Criminal bar Hague
We're so sorry, Mrs. Sekaggya. Orly chewed through her leash.
Orly Taitz's Motion to Reconsider [Scribd, via TPM]
Add a Comment
Please
log in
to post a comment