For Whom The Tweet Tolls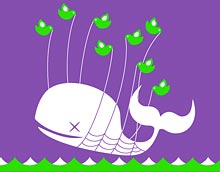 We've lost count of the number of things Wrong with this story. Perhaps you can help!
Dr. Frank Ryan, plastic surgeon to Heidi Montag and other celebrities, was sending a Twitter message about his border collie just before his fatal car accident, his ex-girlfriend tells PEOPLE.

"He lived up in Malibu on a tiny street and he was texting while driving and he accidentally went over the cliff," Charmaine Blake says.

Blake, a celebrity publicist, says Ryan's family was told by investigators that the Tweeting caused the wreck on Monday.

The dog, whose name is Jill — Blake's middle name — was in the car at the time of the crash and survived injuries to the head, eye and paw.
We're very happy Jill survived. Makes the Darwin Award nomination much easier to submit.
Add a Comment
Please
log in
to post a comment