This is a Test of the Emergency Rationality System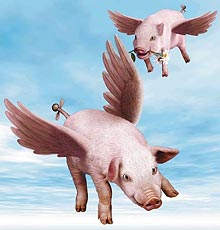 Our late-afternoon guest columnist is Greta Van Susteren. In related news, NORAD has identified the mysterious radar blip as flying pigs.
On August 28th my colleague Glenn Beck is going to lead an event on the mall in Washington, DC. It is the anniversary of Martin Luther King's "I have a dream" speech. The event is causing much controversy …some support and some don't support and some are even furious and upset. Yes he has a First Amendment right to do it…but what about the wisdom of it? Remember…the Muslims in NYC have a First Amendment right to build a mosque but most Americans don't want it…and you have to ask the wisdom of the Muslims to push the issue. Just because you have the right to do something does not mean you should. My view? No mosque at ground zero and Glenn should move his event.
It does not help heal the country on so many fronts if we poke a stick in eyes.
Glenn Beck's plans for rally on a hallowed date and spot spurs countermarches [WaPo]
Add a Comment
Please
log in
to post a comment