Wedding Bell Blues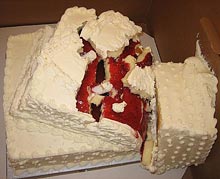 Prop 8 remains in effect in California.
The Ninth Circuit Court of Appeals granted a stay Monday afternoon, scheduling a hearing for the week of December 6 in San Francisco. Gay marriages, which had been set to resume as of 5 p.m. Wednesday, are back on hold.
Arguments must be submitted prior to the December hearing:
The opening brief is now due September 17, 2010. The answering brief is due October 18, 2010. The reply brief is due November 1, 2010.
But wait! There's more!
In addition to any issues appellants wish to raise on appeal, appellants are directed to include in their opening brief a discussion of why this appeal should not be dismissed for lack of Article III standing. See Arizonans For Official English v. Arizona, 520 U.S. 43, 66 (1997).
We're not familiar with the case cited, but clearly the question of whether the Prop 8 sponsors have "standing" to appeal last week's decision will be the first addressed.
Thanks to SFL for tossing us the court order.
Add a Comment
Please
log in
to post a comment