The Bastards Win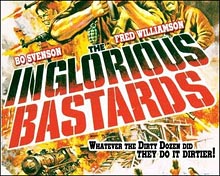 Update: The not-mosque backers are disputing the Haaretz story. See below.
We don't know why (or how) Haaretz is breaking this news, but here it is:
After weeks of heated debate over plans for an Islamic community center near Ground Zero — the site of the 9/11 attacks on New York — it seems Muslim leaders will soon back down, agreeing to move to a new site.

The decision follows a high-profile campaign against the project that included advertisements on New York buses showing images of the burning Twin Towers, an iconic landmark razed when al-Qaida terrorists flew packed passenger planes into them in 2001. The New York Republican party is also said to be planning a hostile television campaign.

Sources in New York said on Monday that Muslim religious and business leaders will announce plans to abandon the project in the next few days.
But not before Harry Reid hands over his nuts to Pam Geller:
"The First Amendment protects freedom of religion," spokesman Jim Manley said in a statement. "Sen. Reid respects that but thinks that the mosque should be built some place else. If the Republicans are being sincere, they would help us pass this long overdue bill to help the first responders whose health and livelihoods have been devastated because of their bravery on 911, rather than continuing to block this much-needed legislation."
Congratulations to all for showing why America is still the beacon of hope to everyone on Earth.
Reid breaks with Obama, opposes mosque near Ground Zero [CNN]
Update: In a series of tweets, the "Official Twitter account of the Park51 Lower Manhattan (LM) community center project" disputes the Haaretz story:
There is no truth to the Haaretz story. It is wholly incorrect. We will be publishing a press release regarding this shortly.
Correction, we will be publishing an official twitter response to the Haaretz story and the Hamas comments.
Official: Reports by Haaretz are completely false. We are committed to plans of building Park 51 to serve the community of Lower Manhattan.
Good for them. America may now resume its carnival, already in progress.
Add a Comment
Please
log in
to post a comment