Dickipedia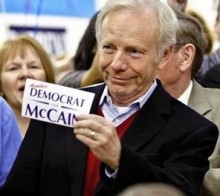 A wiki of dicks. Today's Dick of the Day – Joe Lieberman:
After publicly stating that George W. Bush's Iraq invasion was valid (it wasn't) because Iraq was involved in the 9/11 attacks (they weren't), Lieberman lost the Connecticut Democratic Party's 2006 renomination to somebody who actually stood for things Democrats stand for. Lieberman then ran as an "independent Democrat" on the ticket of the dickishly named Connecticut for Lieberman party. After actually winning the election, he made a deal with the Democratic leadership, saying his independent status was a technicality and that he would continue to caucus in the Senate as a Democrat.
What the Democratic leadership failed to take into account is that Joe Lieberman is a dick, and in 2008 he turned on them yet again by endorsing Republican candidate John McCain for President and saying that he would be willing to speak at the 2008 Republican National Convention on McCain's behalf. If that isn't dickish enough, Lieberman has even been mentioned as a possible Vice Presidential nominee on McCain's ticket. He has denied interest in the position, but a "no" from a dick is about as reliable as having Joe Lieberman as your running mate, party member and/or first husband.
Thank you, people of Connecticut, for sending us this backstabbing, self-promoting sociopath.
Add a Comment
Please
log in
to post a comment