Vitamin Water = Sugar? NOOOOO!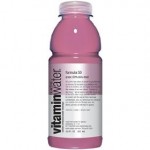 Like, who could have predicted?
A federal judge ruled this week that Vitaminwater will not, as its labels promise, keep you "healthy as a horse." Nor will it bring about a "healthy state of physical or mental being". Instead, Vitaminwater is really just a sugary snack food; non-carbonated fruit coke disguised as a sports drink. Because it's composed mostly of sugar and not vitamin-laden water, judge John Gleeson held that Vitaminwater's absurd marketing claims were likely to mislead consumers.
Coke tried to explain away claims like "vitamins + water = all you need" as "only puffery." The judge disagreed.
From the opinion:
By including the suggestion that the product will "keep you healthy" or "help bring about a healthy state of physical and mental being" alongside such statements, the quoted language implies that the nutrient content of vitaminwater may help consumers maintain healthy dietary practices. I conclude, therefore, in light of the language and context in which they are used, that the statements on the "defense" and "B- Relaxed" labels constitute implied nutrient content claims which use the word "healthy." Such claims are in violation of violation of FDA regulations because . . . vitaminwater achieves its nutritional content solely through fortification that violates FDA policy.
And we trusted Coca-Cola to do the right thing. Another American icon laid waste. DAMN YOU PLAINTIFFS' LAWYERS!!!
Add a Comment
Please
log in
to post a comment