Gay-to-Straight Therapist Heads Straight to Gays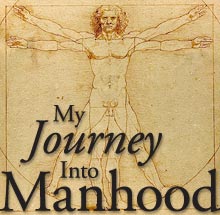 Meanwhile, back at camp…
Truth Wins Out (TWO) released an exclusive video statement today from two former clients of "ex-gay" life coach Alan Downing. The clients, Ben Unger and Chaim Levin, alleged that during individual therapy sessions, Downing made them undress in front of a mirror and touch their bodies while the significantly older therapist watched. Unger and Levin call the sessions a "psychological striptease" and believe they were harmed by what they consider unprofessional behavior and sexual misconduct.

Downing, who admits he is still attracted to men, is a major player in the "ex-gay" industry and a practitioner of so-called "reparative therapy". He is the lead therapist for Jews Offering New Alternatives to Homosexuality (JONAH) and is listed on the People Can Change website as a "Senior Trainer" for Journey into Manhood, which is a controversial "ex-gay" backwoods retreat designed to supposedly make gay men more masculine.
"Journey into Manhood"? Hmmm… Where have we heard that before?
Add a Comment
Please
log in
to post a comment