Fox News Fashion Police
Yesterday Glenn Beck went on Bill O'Reilly's show, and the usual hilarity and asshattery ensued.
The highlight, however, was when Glenn Beck came out of the closet as a fashionista to criticize Michelle Obama's sartorial choice when she recently toured a Florida beach, describing her outfit as "an outrage" and the "most Marie Antoinette ever" because there was a black pattern on her shirt.  Beck said that he felt her dress was mocking people who had been affected by the oil spill. (Note to Glenn: it's an "outfit," not a "dress").  Then he closes out with a tirade about how the White House garden is socialist because there are too many red vegetables. (Note to Glenn: tomatoes are a fruit, not a vegetable).
Glenn Beck Calls Michelle Obama 'Marie Antoinette'
If you can't bear to watch the clip of asshattery, here's Shelley Oh's ensemble.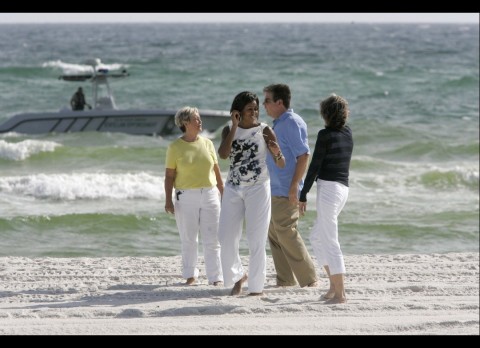 I just think the outfit makes her look a little hippy (not hippie), but otherwise it's cute.
Add a Comment
Please
log in
to post a comment