My Eyes, They Bleed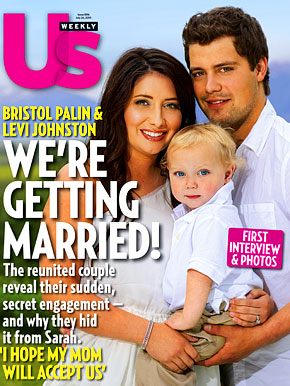 This week's Us Weekly has the exclusive news that Bristol Palin and Levi Johnston are getting married.
The anti-Palin blogs of Alaska predicted this engagement two weeks ago, and have also predicted that there will be a subsequent announcement of a reality show featuring the young couple.
Gawker notes that the blog Palingates (which is obsessed with the parentage of Trigg) first offered up the prediction of:
Within the next four to six weeks Palin's PR people will be releasing news that Bristol and Levi have signed on to "star" in a new reality show. All about young parenting. And yes, they will also work up to a wedding. This is part of the planned "story arc." Sort of a Bethenny Gets Married but with a faux conservative/young Republicans spin. Levi will be promoted as young, decent, salt of the earth guy, Bristol will be seen dealing with the "challenges" of young motherhood (with Trig and the nannies kept carefully out of sight.) Willow will be on a lot. (Since it's not like she goes to school.) They'll attempt to boost rankings in the first few episodes by having Sarah cameos, maybe some Piper thrown in there, but the rest of the time will be a "conservative young marrieds who just happen to already have a baby" theme.
Please Flying Spaghetti Monster, let this not be true! However, given the grifter nature of both the Palin and Johnston clans, I suspect that we will be seeing Bristol asking Levi why they call it Chicken of the Sea if it's tuna within six months. I also fear another pregnancy within three months.  And then of course we'll have the televised wedding.
UPDATED:
Sarah Palin's response, released today:
"Bristol at 19 is now a young adult. We obviously want what's best for our children. Bristol believes in redemption and forgiveness to a degree most of us struggle to put in practice in our daily lives."
Add a Comment
Please
log in
to post a comment