World Cup Hottie: Hara-Kiri Edition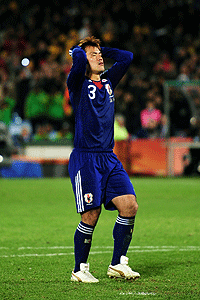 So it's come to this. The moment for which you've worked your whole life.  You're representing your country at the World Cup, have exceeded expectations for your team and survived to the elimination round of 16. Your team battles a better South American team to a nil-nil tie after regular time, and play an additional 30 minutes.  Still nil-nil, so the only way to settle the game is with penalty kicks.
The other team goes first. They score on your goalie. Your teammate takes a kick and scores on their goalie. And so it goes until the bottom of the third set when it's your turn.
You're a defensive player, and you've never scored a goal in your career but your coach told you to go take the shot. You line up the ball. You ask the spirit of your grandparents to watch over you. And then you take the shot…
…and you hit the crossbar and the ball doesn't go in. Your team loses because of your missed shot.
There is no reason to go on with life. The shame, the embarrassment, the dishonor to your country. What can give you reason to go on living?
Yuichi Komano of Japan, come on down because you are the Stinque World Cup Hottie of the Day!
C'mon, we have to give him the honor.  Running more pictures of Cristiano Ronaldo would have been too predictable.
Here's the shot: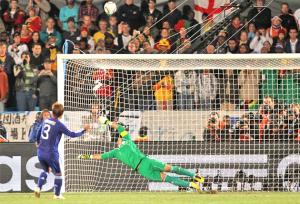 And another view of him after the miss: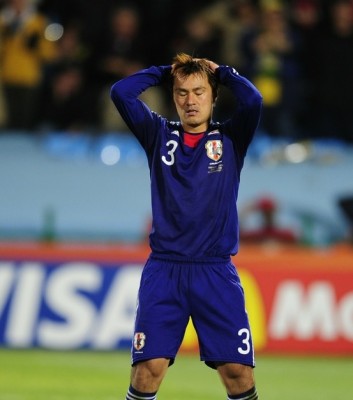 And another: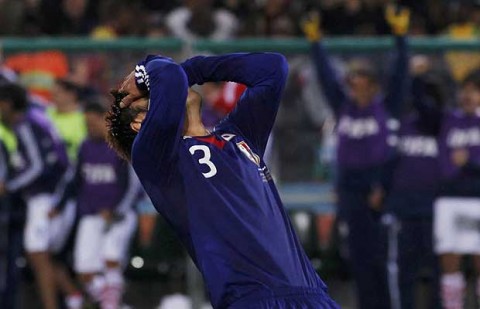 Picture from another game. Dude has some crazy hair going on: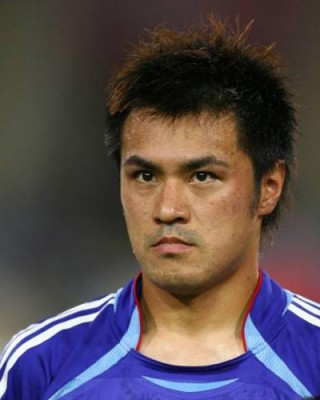 Add a Comment
Please
log in
to post a comment