How do you say "Hissy Fit" in Latin?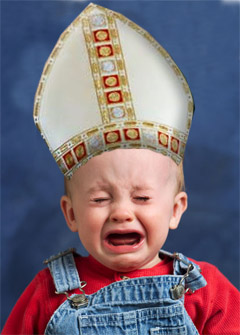 Uh, oh… the Pope is pissed. Seems someone in Belgian law enforcement didn't get the message that the Catholic Church is above the law, and decided to conduct a raid of church offices in a wholly unwarranted investigation into the trivial misdemeanor (is it even a crime?) of child rape:
ROME — In a sign of sharply rising tensions between the Vatican and Belgium, Pope Benedict XVI on Sunday criticized as "surprising and deplorable" a raid on church property last week by Belgian police investigating sex abuse by clerics.

In an exceedingly rare personal message and rebuke of a sovereign country, the pontiff also stressed the church's "autonomy" to conduct its own investigations and criticized the "deplorable methods" of Belgian police who last week detained bishops, confiscated files and even drilled into the tombs of at least one cardinal in the Brussels cathedral in a search for documents.

"On several occasions I have personally reiterated that such serious issues should be attended to by both civil and canon law, with respect for their reciprocal specificity and autonomy," Benedict said in a statement circulated by the Vatican on Sunday.
The Pope is right, of course. How is the church supposed to conduct an internal investigation/coverup of the Catholic hierarchy's complicity in shielding child rapists if it simultaneously has to contend with the nuisance of a criminal investigation by unqualified laymen who probably have never written a sermon in Latin in their whole lives?
On Saturday, the Vatican secretary of state, Cardinal Tarcisio Bertone, called the detention of bishops "serious and unbelievable" and compared the police tactics to those of Communist regimes. He also said that the bishops had been deprived of food and water during their detention.
Little known fact: child rape was also illegal in communist Russia! Someone call Glenn Beck, or Sowell Thomas!
In his message on Sunday, Benedict said he hoped that "justice will run its course," guaranteeing "the fundamental rights of people and institutions" and "the respect for victims."
And by victims, of course, we mean the poor Bishops, Cardinals and Priests who have been deprived of their God given right to have these matters resolved in the secrecy of the parallel shadow legal system of Sharia Law Canon Law, the better to shield the Church from the scurrilous accusations of those who simply wouldn't understand.
Add a Comment
Please
log in
to post a comment