The Man Show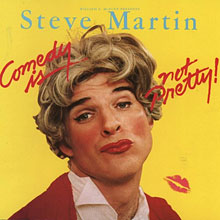 To be honest, we don't trust Gawker Media these days. What began as a charming collection of rascals has evolved into a ravenous linkbait machine. Anything that appears in one of their blogs has to share the grain of salt we usually save for Politico: It may be true, but we'd feel more comfortable with a second source, from some joint that's not hopelessly devoted to pageviews.
Most of the time we just ignore Gawker Media entirely — it's been a long time since we frequented any of Nick Denton's establishments. But sometimes they still cross our path, especially now that their posts are being syndicated elsewhere. (Is it really a wise use of TPM's investment capital to run Gawker crap that sullies its growing reputation?) And they do show up on occasion in Memeorandum and its sister sites, the Google News of blogger chat.
Which is how we stumbled across Jezebel's story on the Daily Show:
The Daily Show is many things: progressive darling, alleged news source for America's youth, righteous media critique. And it's also a boys' club where women's contributions are often ignored and dismissed.

If Olivia Munn, the former videogame show host introduced to Daily Show viewers three weeks ago, survives her tryout, she'll be the first new female correspondent on the show in seven years. With the notable exception of Samantha Bee, who's been on since 2001, female correspondents have been a short-lived phenomenon. As fiercely liberal and sharp-eyed an observer as Jon Stewart can be, getting women on the air may be his major blind spot…

Given its politics and the near-universal adoration with which it's met, the current iteration of The Daily Show is held to a different standard by the viewing public. But behind the scenes, numerous former female staffers tell us that working there was often a frustrating and alienating experience.
Let's grant off the top that this is a fair criticism. But let's also note — as Jezebel doesn't — that not long ago, the Daily Show's "correspondents" were mostly white males. Jon Stewart has been diversifying the on-air talent, ethnically if not chromosomatically. And with only five slots to fill, it can be a slow process.
Criticism granted, let's look at the sources and examples Jezebel used to back up its story:
"Lauren Weedman, a comedian and writer who worked on the show as an on-air correspondent from 2001-2002."
"Co-creator and executive producer Madeleine Smithberg," who "quit in 2003."
"Stacey Grenrock Woods was on Stewart's show from 1999-2003".
"Adrianne Frost, who worked briefly as a correspondent in 2002".
And… that's it. Say, could you throw in some hot gossip about Jack Paar while you're at it?
Even Smithberg, the highest-ranking source for the story, undermines its premise:
"I don't think Jon is sexist," she says. "I don't think that there is a double standard at the Daily Show. I do think that by the time it gets to the Daily Show it's already been through the horrible sexist double standard of the universe. You're not hiring someone right out of school. By the time they get to the candidates of the Daily Show, the herd has been thinned by the larger societal forces." Of the greater talent pool of comedians, she said, "All that's left are white men and Aziz Ansari."
She needn't have aimed so, um, broad. It's long been observed that American comedy is a boy's club, with rare exceptions who are respected by their peers. Phyllis Diller. Joan Rivers, back when she was guest-hosting the Tonight Show. Sarah Silverman. The real story is that the Daily Show is a creature of its profession: Its sins are shared by its competitors.
Which isn't to excuse or forgive the situation. But for Jezebel to dust off old grudges and present them as breaking news, well, that's just linkbait — drawing almost 40,000 views as of Wednesday night. Denton must be proud.
Add a Comment
Please
log in
to post a comment