World Cup Hottie of the Day, Day 2
By the time this is posted, the US v. England game will be half over. (Confession: This was put in the can 12 hours in advance, just like at newspapers).
So by the time you're reading this, today's World Cup Hottie of the Day could be the biggest hero of the U!S!A!
Or not.
I present to you, Tim Howard, the starting goalie of the U.S. national team.
Why the goalie? Why not hottie-pants U.S. 'Merikan Landon Donovan for Day 2?
Because goalie is the most thankless yet crucial position in a soccer game, and Howard has proven his skills time and time again (no comment on the 11 am PDT/2 pm PDT game underway that I am not watching and that occurred after I wrote this post) and he has overcome a childhood as the picked-upon kid in Jersey – biracial child of an Eastern European immigrant and black father; who does not medicate his Tourette's and has channeled his energy into goalie, including emerging in the British soccer leagues.
He's not as simply hot as some of the other World Cup Hotties, but he's hot in a different way for his mad ball-handling skills, holding the team together, and barking out commands from the back of the pitch.
And another action shot, hopefully the ball will not be going by him like this: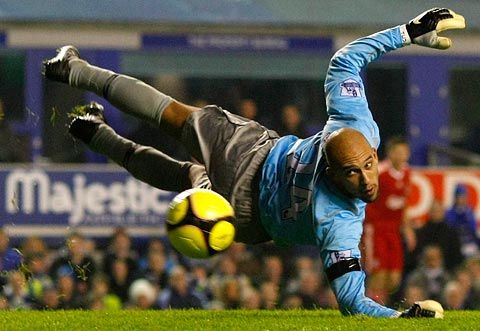 Sadly, goalies don't take their jerseys off that often so I couldn't find a pick of him shirtless. But you *know* he's going to have a six pack to rival Ronaldo under that shirt.
Add a Comment
Please
log in
to post a comment