Seventeen States Going Nazi, to Follow AZ in War on Melanin-Enhanced Americans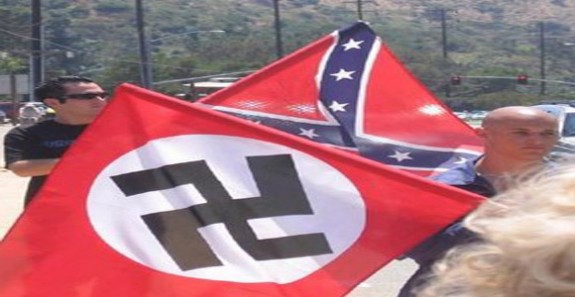 The neoconfederate, neonazi front group Americans for Legal Immigration PAC (ALIPAC) announced this month that some 17 states are now filing versions of Arizona's SB 1070 law which is designed to terrorize non-white Americans and give psychopathic racists an outlet for their depthless rage and hatred for the election of a melanin-enriched president.
The fascist dogs at ALIPAC have been inciting legislators in the most nazi-sympathetic states to file legislation to legalize the arbitrary arrest and terrorism of non-whites.
So far these agents of hate have reportedly provoked sympathetic responses to their satanic cause in Arkansas, Idaho, Indiana, Maryland, Michigan, Minnesota, Missouri, Nebraska, Nevada, New Jersey, Ohio, Oklahoma, Pennsylvania, Rhode Island, South Carolina, Texas and Utah.
Please monitor the ALIPAC site to track the names of legislators who are sponsoring nazi laws and do make yourself available to offer each of them an extended urinary event on his or her fascist fucking face.
The forces of hate and rage are gearing up for this year's Congressional elections and the presidential race of 2012. This kind of legislative push is a catalyst to draw the teabaggers, neonazis, neoconfederates and neomedievalists of the Republican party under one big banner of racialist fury. It will all be almost completely sponsored by industry, of course, through a series of 527 groups and 'think tanks' but the result will be exactly what the corporatist oligarchs desire: all America at each other's throats while they savagely rape America's collective ass for another 30 years.
Which leads us to the next question: who is funding the ALIPAC fucktards?
Add a Comment
Please
log in
to post a comment