I Only Play an Ophthalmologist at the Office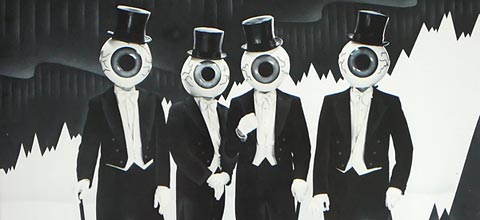 Rand Paul, who rushed from the operating room Tuesday to give a talk while still in his surgical duds, seems to advocate free-market doctor certification:
Rand Paul's reputation for marching to his own drummer may extend to his medical career. The GOP Senate candidate is the founder and president of a certifying board for eye doctors, which he appears to have set up as a rival to the existing certification board. But his organization has left little public record, and the legitimacy with which it's viewed remains unclear at best.

In 1999, Paul created a new non-profit organization, the National Board of Ophthalmology (NBO), headquartered at his home in Bowling Green, Kentucky, in order to "provide information to the public concerning physicians with exemplary qualifications in the medical specialty of ophthalmology," according to the organization's founding document, filed online with the Kentucky Secretary of State's office. Page One, a Kentucky politics blog, first noted the group's existence last month.

"It was a certifying board," Beth Ann Slembarski, the administrator of the major existing ophthalmology certifying board, the American Board of Ophthalmology (ABO), told TPMmuckraker.
Apparently — this is very confusing — Randy's NBO was created to get around new ABO recertification rules. Imagine needing to take a new driver's test every ten years, then learning you could get a license from an alternative agency that was good for life. Something like that.
ABO certifies 96 percent of American ophthalmologists, while eight ophthalmologists nationwide claim dual ABO/NBO certification. Randy himself let his ABO cert lapse in 1995.
We really don't know what it all means, if anything. Then again, we really don't want to encounter that kind of confusion when choosing an eye doctor.
Add a Comment
Please
log in
to post a comment