This Modern Whirlwind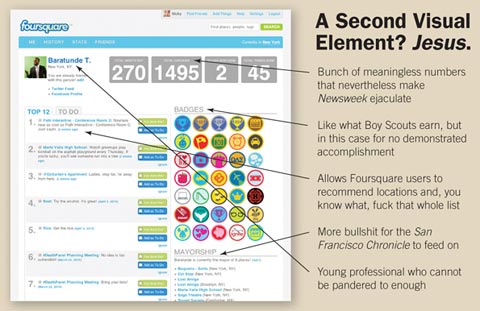 The Onion on the NYT on Foursquare:
"Foursquare is a little bit of everything — a friend-finder, a local city guide, an interactive mobile game," said company cofounder Dennis Crowley, as if reading from the same tired script used by every one of these Web 2.0 or whatever-the-fuck-they're-called startups. "But more than that, Foursquare is an [endless string of meaningless buzzwords we just couldn't bring ourselves to transcribe]."

Added Crowley, "[Who gives a shit]."
Actually, we're just jealous we can't blithely spout geek marketing jargon to Silicon Valley venture capitalists. Edwin Newman fucked us up for life.
Add a Comment
Please
log in
to post a comment