Herstory on the March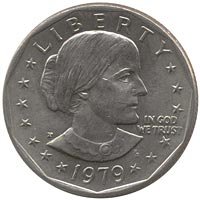 You may not know that Team Sarah, which is kind enough to send us exclamation-laden emails on occasion, is a project of something called the Susan B. Anthony List. You also may not know about the SBA List's mission statement:
Our organization is named after the suffragette Susan B. Anthony. Anthony was an outspoken critic of abortion, even calling abortion "child murder." Although she is known for helping women win the right to vote, it is often untold in history that she and most early feminists were strongly pro-life.
Damned historians, always twisting the record and keeping a step ahead of the Texas Board of Education. How could we not have known that Susan B. Anthony was an outspoken critic of abortion?
Unless, of course, she wasn't:
The bits of information circulating on the Web always cite "Marriage and Maternity," an article in a newspaper owned for several years after the Civil War by Susan B. Anthony. In it, the writer deplores "the horrible crime of child-murder," and signs it simply, "A." Although no data exists that Anthony wrote it, or ever used that shorthand for herself, she is imagined to be its author. The anti-abortion forces also ignore the paragraph in which the anonymous author vigorously opposes "demanding a law for its suppression." In other words, the article opposes the criminalization of abortion and was written by someone other than Anthony. Untold? Unproven.
Then again, the writers of that passage are only the editor of Anthony's papers and the author of an Anthony biography. Clearly it's a lamestream hatchet job, proven by their selection of another Anthony quote that the SBA List, Team Sarah, and Talibunny herself overlook:
"I dislike those who know so well what God wants them to do," she said, "because I notice it always coincides with their own desires."
So once again, we need to recast our favorite Annie Hall scene. In our latest version, it's Susan B. Anthony stepping out from behind the lobby placard and telling the collected members of Team Sarah, "I heard what you were saying! You know nothing of my work!"
Add a Comment
Please
log in
to post a comment