What We Talk About When We Talk About Death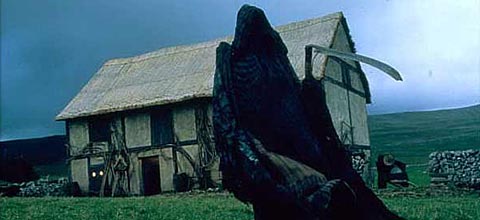 We never cease to be amused at Christians who can't conceive of how we survive without their deity watching over us. Surely we're fooling ourselves, living an ersatz form of religion without the trappings. Surely we can't maintain a coherent form of ethics without the Yahweh Seal of Approval. Surely we don't mean it.
Actually, we don't. Doesn't come up that often, really. Only when we encounter proselytizers at our front door. Or when Sully decides to start a campaign:
If I may intrude, and ask a question I do not mean to be loaded, just curious: I wonder what Kevin thinks happens to him when he dies? And how does he feel about that — not just emotionally but existentially? These questions can be addressed without talking of God. And yet they reveal something about what it is to be human.
We won't presume to speak for Kevin Drum, and as a rule we resent Professional Atheists, so we won't presume to speak for the Godless Cabal either, although we'll show you the secret handshake if you buy us a pint. But to address Sully's first question, here's what happens when you die:
You cease to exist.
We know, we know — fucking waste of an advanced philosophy degree.
So let's try the second question: How do we feel about that?
Same as we feel about gravity.
Wait — is that the emotional or existential answer?
Ummm… Both.
Thank you. And now, here's Chet with the weather…
What? That's not enough? Well, what were you expecting? Death is a fact of life. If you don't buy into a conventional notion of an immortal soul, it's not like there's some theoretical vacuum that wants filling. If you don't believe in ghosts, you're not likely aching for some neo-ectoplasmic substitute. You just find something else to bother yourself about.
And besides: Souls are immortal.
Hank Jones, brother of Thad and Elvin, died last weekend. So did Ronnie James Dio. Depending on your iPod or radio station, you've been listening to tributes. You've been listening to their souls. Hank and Dio may have slipped the mortal coil, but their souls aren't going anywhere. They're in you.
For that matter, if you're Christian, God is in you as well. Where else can he be? He sure ain't Up There, so you're all he's got. We just hope you have one of the later versions, since he's quite cranky in the original edition.
And here's where we part company with Professional Atheists: We don't necessarily think you're deluded. (We'll handle that judgment on a case-by-case basis.) In fact, you're engaged in the most glorious and enduring act of imagination humanity has accomplished. To say "Man created God" both nails and misses the point: Yes. Yes, we did. And isn't creation itself what we celebrate — what reveals the most — about being human?
So, back to the top: What happens when we die? If we've played it right, we live on in the lives we've touched. And so do you.
Add a Comment
Please
log in
to post a comment