Keep Your Heap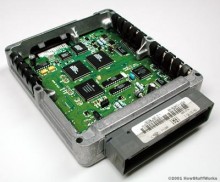 As if you didn't have enough to worry about:
CarShark's a computer program that'll let someone hack into a car's onboard computer system to kill the brakes, disable the engine, blast music and otherwise wreak electronic havoc. It's both clever and absolutely frightening. Here's how it works.

A team of researchers led by professors at the University of Washington and USCD hacked the Controller Area Network (CAN) system installed on all new cars built in the United States to show how potentially vulnerable the system is. The CAN is supposed to allow onboard vehicle systems to communicate so problems are easier to diagnose, but the hands of these hackers it's the open door to disabling a vehicle.
Suddenly that '91 Civic DX doesn't look so bad, eh?
Add a Comment
Please
log in
to post a comment