Brace for Impact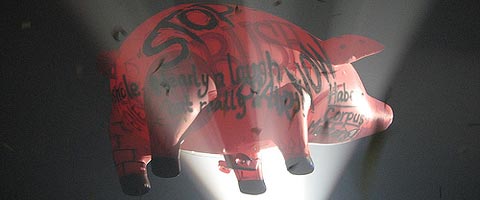 Now that Arizona has legislated a pig, its governor is worried about the lipstick:
Acknowledging that Arizona has developed a serious image problem because of its tough new immigration law, Gov. Jan Brewer and tourism-industry leaders said Thursday that they will launch a new effort to stanch the flow of lost trade and convention business in the state.

The legislation and firestorm of negative publicity that followed brought calls for boycotts, moved groups to back out of local conventions and led several cities to cut business ties with Arizona companies.

The loss of business is critical in a recession-battered state vitally dependent on visitor spending.

"It's up to us to get the truth out there. This is impacting Arizona's face to the nation," said Brewer, who blamed the controversy on misconceptions about the law.
This is impacting Arizona's face to the nation. Sounds like Arizona's superintendent of public instruction should be focusing on the governor's grammar instead of ethnic-studies programs.
Add a Comment
Please
log in
to post a comment