Honey, Get Me Rewire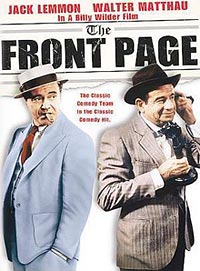 The summer before we entered journalism school, the dean called us freshmen in for a pep talk.
Get out, he said. Now. The future is grim. Your chance of being and remaining gainfully employed in a low-paying profession is even grimmer.
This was 1977.
CNN didn't exist yet, never mind the Internet. The bogeymen were newspaper chains like Gannett, and they hadn't even launched USA Today.
We, of course, ignored the dean's advice, graduated four years later, worked at a small community newspaper for eighteen months, and decided we'd rather run away and join the circus. And here we are.
And whenever we read thumbsuckers on The Fate of Newspapers in The Internet Age, we think of the dean. Nobody in the industry should act surprised. This has been coming for a generation.
We also think of our dad, who worked in the local paper's circulation department all our life. Somebody's got to wrangle the paperboys. For that matter, somebody has to wrangle the web press, which is a fucking behemoth. Oh, and somebody has to pay for that behemoth, too. And the giant rolls of newsprint that feed it. And the supercool old farts running that monster, who make neat newspaper hats for the little wide-eyed boys watching it run.
The first rule of journalism: You're not the one paying for it. Your subscription covers a small portion of the cost. Your local furniture store is really footing the bill. Or used to.
Forget everything you've heard about Craigslist killing classified ads. Newspapers were starting to die long before Newmark launched his website in 1995. We'd peg it around 1980, in fact. That's when grocery stores started printing their own inserts. Or even worse: mailing them.
Time was when the local paper made a huge chunk o' change through "display advertising" — everything except classifieds. Safeway would order up two or more full pages a week, and send instructions about images and prices. The layout was labor-intensive, and newspapers could charge a healthy premium. And why not? They owned the local market. You try getting that ad distributed without a newspaper.
Which is what they did. First, major stores started printing their ads regionally, sending the finished product to newspapers for insertion. Newspapers could still charge for the service, but not nearly as much as an ad printed on its own pages. Then, as a hedge to keep the newspapers honest, major advertisers threatened to mail those inserts themselves.
Thirty years later, welcome to your mailbox. It wasn't always stuffed to the gills with junk.
Meanwhile, as advertising has dropped, newsprint prices have done little but rise — denuding forests is expensive. Newspapers have always been a very capital-intensive enterprise, of which actual reporters are a relatively small expenditure. Reporters themselves used to be blissfully unaware where the money came from (it's a profession, dammit!), but we suspect that has changed in recent years.
In fact, there's little news in a newspaper, which shouldn't come as a surprise. We were expected to write six stories a week (two per issue) at our community paper. And we were the only news reporter there. There was also the sports reporter, of course. And the features reporter. And the editor who also covered the city council. And lots of filler.
Your mileage will vary at a metro daily, of course. But almost everything we know about newspapers, and the business model that sustains them, stems from an era when they had monopoly or near-monopoly control of their local markets — for advertising and information. (All those hyphenated names are ghosts of a much earlier era of local competition.) That's the era our J-school dean saw coming to a close, and it was clear enough to a grizzled vet like him even without whizbang cable and digital technology.
So when we hear about Google wanting to help the newspapers it's also helped to render irrelevant, we wish them luck. We understand that you can't have Google News without, well, news, but you also can't have newspapers with Google News. Fact is, you can't have them anyway, Google or not. It's thirty years too late.
Add a Comment
Please
log in
to post a comment