Stinque Recipe Challenge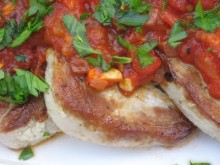 Making half the recipe using cod – this is not the precise recipe in Mastering the Art of French Cooking, Vol. 1, but it is almost verbatim. I added a bit about meat glaze at the end – this is from the book.
Thon à la Provençale
3 pounds fresh tuna or swordfish steaks about ¾-inch thick
1 teaspoon salt
2 tablespoons lemon juice
1/2 cup olive oil, divided
1/8 teaspoon pepper
1 cup onions, peeled and minced
3 pounds fresh tomatoes, peeled, seeded and chopped
2 cloves garlic, peeled and minced
1/2 teaspoon oregano
1/4 teaspoon thyme
1/4 teaspoon salt
1/8 teaspoon pepper
1 cup dry white wine or 2/3 cup dry vermouth
1 to 2 tablespoons tomato paste
1 tablespoon flour
1 tablespoon butter, softened
3 tablespoons chopped parsley
Remove skin from the fish, and cut into serving-size portions. Whisk together the salt, lemon juice, 6 tablespoons olive oil and 1/8 teaspoon pepper. Arrange the fish in a large dish in one layer, pour marinade over the fish and marinate 1½ to 2 hours, turning occasionally. Drain the fish, and dry thoroughly on paper towels. Discard the marinade.

Heat the remaining olive oil in a skillet until shimmery, and add the fish. Sauté over medium-high heat a few minutes on each side to brown lightly. Rearrange the cooked fish in a baking pan large enough to hold them in one layer.
Heat oven to 350 degrees.
Add the onions to the skillet, and cook until softened and becoming translucent, 5 to 7 minutes. Add the chopped tomatoes, garlic, seasoning and herbs. Cover, and cook slowly over lowered heat about 5 minutes. Taste, and adjust seasonings if needed. Pour the tomato mixture over the fish. Cover the baking pan, and bake for 15 minutes. Pour in the wine, and bake for 30 minutes more, turning the oven down to 325 degrees as soon as the sauce comes to a simmer.
Remove fish from sauce, scraping sauce off the fish back into the pan. Keep fish warm while you finish the sauce.
Place sauce in a saucepan, and bring to boil over medium-high heat. Cook until sauce is reduced to about 2 cups. Stir in the tomato paste [and optional meat glaze* for depth of flavor]. Simmer, taste and correct seasoning.
Mix together the flour and butter into a thick paste. Off the heat, beat the flour/butter mixture into the sauce. Return to heat, and bring to a simmer, stirring. Stir in the chopped parsley, spoon sauce over fish, and serve.
*2-3 quarts of any homemade stock:
Strain the stock and degrease it thoroughly. Bring it to the boil in a saucepan and boil is slowly until it has reduced to about one quart. Strain it through a sieve into a smaller saucepan and continue to boil it down until it is reduced to a syrup which coats a spoon lightly. Watch it during the last stages to be sure it does not burn. Strain it into a  jar. When it is cold and has turned to a jelly, cover and refrigerate, or freeze it.
I'm using last weekend's leftover stock to make the glaze.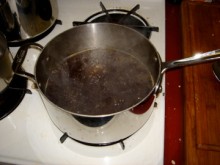 Copyright © 1983 Julia Child, Louisette Bertholle, Simone Beck
Add a Comment
Please
log in
to post a comment