How to Crash a Server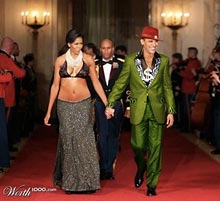 There's big news in New York today, as "an online news outlet" dumps a stash of highly improper emails forwarded by Carl Paladino, the teabagger candidate for the GOP gubernatorial nomination.
Problem is, the server's swamped. We can't reach them.
So we'll have to make do with TPM's summary:
An October 2009 email with a photograph showing President Obama and the First Lady dressed in 70s-era blaxploitation pimp and prostitute costumes while attending a formal event at the White House.

A December 2008 email showing a video of African tribesmen performing a traditional dance. The video is entitled "Obama Inauguration Rehearsal."

A September 2009 email entitled, "Easy Steady Big Fella….XXXX," with a photograph that graphically depicts a horse having sex with a woman.

A January 2010 email, containing a hardcore pornographic video entitled "Miss France 2008 Fucking."

A July 2009 email showing a photograph of an airplane landing directly behind a group of black men. The caption reads: "Holy Shit. run niggers, run!"
Paladino's campaign manager does his best to wave off the controversy, but really, whatchagonnado?
Carl Paladino has forwarded close friends hundreds of email messages he received. Many of these emails he received were off color, some were politically incorrect, few represented his own opinion, and almost none of them were worth remembering.
Yes, we always forward racist, pornographic emails to our friends, with the proviso that they don't at all represent our opinion, but here, enjoy some horse-fucking.
Then again, while horse-fucking may not be worth remembering, it's damned hard to forget.
WNYmedia.net's stash [good luck]
Add a Comment
Please
log in
to post a comment