Ratzi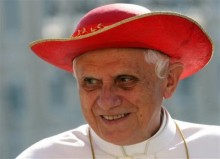 Is there a chance the little fucker will be arrested?
LONDON (Reuters) – British author and atheist campaigner Richard Dawkins will try to have Pope Benedictarrested to face questions over the Catholic church's child abuse scandal when he visits Britain later this year, one of his lawyers said Sunday.

Dawkins, a scientist and outspoken critic of religion, has asked human rights lawyers to examine whether charges could be brought against the pope.
Covering up child rape.  So Catholic.
Add a Comment
Please
log in
to post a comment