Douchebags of the Day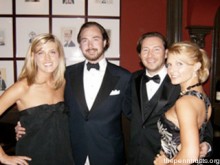 These leeches – the Young Eagles:
As we're guessing you know by now, that's the RNC-created program for young donors whose night out at a bondage-themed LA club ended up on the committee's tab — triggering the latest round of speculation over whether Michael Steele can survive.

Is it J. Roby Penn IV, the Young Eagles' mid-Atlantic regional director and 29-year-old heir to an oil-and-gas fortune, who tells visitors to his Facebook page, "My ancestors, actually, weren't on the Mayflower. They sent the servants over first to get the cottage ready"?
Scum.  GOP scum.
Add a Comment
Please
log in
to post a comment