Our Source Was The N.Y. Times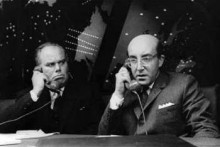 Black Eagle, during the Easter Egg Roll, said this:
President Obama said Monday that he was revamping American nuclear strategy to substantially narrow the conditions under which the United States would use nuclear weapons, even in self defense.

[snippety snip]

…The United States is explicitly committing not to use nuclear weapons against non-nuclear states that are in compliance with the Nuclear Non-Proliferation Treaty, even if they attacked the United States with biological or chemical weapons, or launched a crippling cyberattack.  Those threats, he argued, could be deterred with "a series of graded options" — a combination of old and newly designed conventional weapons.  "I'm going to preserve all the tools that are necessary in order to make sure that the American people are safe and secure," Mr. Obama said during the interview in the Oval Office.
Well. 
Haven't looked at The Corner yet, but I'm guessing they'd be somewhat lukewarm to the idea.
Add a Comment
Please
log in
to post a comment